Texas Toyota of Grapevine serving Dallas TX, brings you the all new 2011 Toyota 4Runner. The Toyota 4Runner is a remarkable SUV, that's full of power and luxury. Now that the new Toyota 4Runner is available and always in stock, at Toyota of Grapevine we highly encourage you stop in and drive one today. The new 2011 Toyota 4Runner comes in a variety of models such as the SR5, Trail, and Limited edition.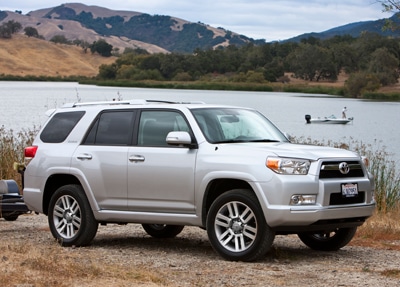 When consumers compare the Toyota 4Runner to other makes like the Toyota Highlander, GMC Acadia, Jeep Grand Cherokee and Ford Flex , the 2011 Toyota 4Runner shines as the most fun-to-drive. Starting with the 2010 Toyota 4Runner, owners found this affordable SUV's crisp handling and lively acceleration to be reason enough to choose.
You'll fall for the Toyota 4Runner, affordable midsize SUV, when you shop at Texas Toyota of Grapevine in Texas
The newly redesigned 2011 Toyota 4Runner is the model of perfection for all off-road SUVs. The Toyota 4Runner, available at Texas Toyota of Grapevine in Texas TX, is a beacon of style and sophistication that clashes head-on with rugged reliability and well-built capability. When it comes to navigating treacherous terrain and overall driver satisfaction, the Toyota 4Runner beats the Toyota Highlander, GMC Acadia, Jeep Grand Cherokee and Ford Flex hands down. For 2011, Toyota has revamped the Toyota 4Runner 2010 into the all new 2011 Toyota 4 Runner.
For over a quarter century, the Toyota 4Runner has been at the cutting-edge of SUV innovation and design. The journey began in 1984 with the very first Toyota 4Runner, a 2-door vehicle with a removable hard top. This first generation 4Runner featured a 2.4L 22R 4 cylinder engine with a 5-speed manual transmission. In 1990, the second generation model showcased a 3VZ-E engine with rear-wheel anti-lock brakes and an A340F Automatic Transmission, making the Toyota 4Runner a safer, more reliable SUV.

Fast-forward a few model generations and several years later; the 2011 Toyota 4Runner at Texas Toyota of Grapevine still features everything that made the original 4Runners instant classics: powerful engines, excellent safety features, great pricing, and most of all, the satisfaction and sense of well-being that Toyota owners experience every time they step into their 4Runner.

The 2011 4Runner at Texas Toyota of Grapevine features an exciting variety of Trim Levels for the 2011 Model Year.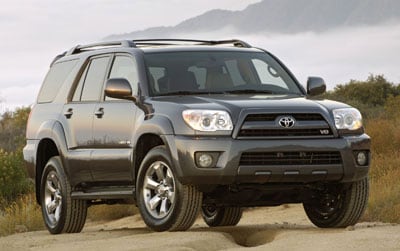 The Toyota 4Runner SR5 Trim Level is available in a four-wheel drive or rear-wheel drive model, making even the hardest off-road conditions much smoother. The 2011 4Runner houses a 4.0-liter V6 engine with 270 horsepower and a five-speed automatic transmission. The SR5 also features a variety of amenities including: heated outside mirrors, fog lights, rear ventilating AC, full power accessories, an eight-speaker CD/MP3 audio system, and a powered rear window.
The 4Runner Trail Trim Level is made just for the hardcore off-road weekend warriors in Dallas. This Trim Level features 4Runner 4WD, and supplements the Toyota forerunner SR5 with fender flares, rocker panels, and a locking rear differential for supreme strength and stability in off-road conditions. Other improvements in the 4Runner include: special off-road tires, back-up camera display, water-resistant interior, steering wheel mounted controls, and a sliding rear cargo deck for unprecedented ease in storing and accessing all of your gear.
The final Trim Level on the 2011 Toyota 4Runner is the Limited. Many of the features available in the SR5 and Trail Trim Levels are also included in the Limited. Toyota 4Runner reviews rave about this option with all-wheel drive, the X-REAS adaptive suspension dampers, and JBL audio system. Toyota 4Runner deals in Texas abound, so you can find a Toyota 4Runner financing option at Texas Toyota of Grapevine that is right for you!
The Toyota 4Runner is a guidepost for all other SUVs, and for years Toyota has sought harmony between people, society, and the global environment. Since its founding, Toyota, as a Brand, has continuously worked to contribute to the sustainable development of society through the provision of innovative and high-quality products like the affordable Toyota four runner. Stop by Texas Toyota of Grapevine in Grapevine, TX today to view 4Runner prices and 4Runner incentives.
For years, Toyota has been a leader in safety. All of our 2010 vehicles received four or five stars in front and side impact collisions in government crash tests, and we are dedicated to keeping our strong track record of safety intact for all of our 2011 models as well. The Toyota recall has reaffirmed our commitment to improving R&D activities to produce vehicles that will perform at the highest level of safety and ensure comfortable driving under various conditions. Toyota will continue to deliver the safest and best quality cars, trucks, and SUVs on the road today.
The Toyota 4Runner SUV at Texas Toyota of Grapevine garners high marks for safety. Automotive safety is one of the factors that must be given top priority in vehicle manufacturing. To this end, Toyota is constantly improving R&D activities to produce vehicles that will perform at the highest level of safety and ensure comfortable driving under various conditions. In government crash tests, the Toyota 4Runner scored an amazing 5 out of 5 stars for driver protection in front-end collisions. The Toyota 4Runner comes standard with exceptional safety features like traction and stability control, anti-lock brakes, and roll-sensing curtain airbags, so that you and your family can count on a safe journey - wherever you go.
The details behind why the Toyota 4Runner is good enough to be your prized affordable midsize SUV in delightful TX
Texas Toyota of Grapevine offers the Toyota 4Runner a 4-door SUV which seats 5 people pleasantly. The 4Runner weighs 4,525 pounds, is 189.9 inches long, 75.2 inches wide, 71.5 inches high, and the Toyota 4Runner's turning radius is 18.7 feet. notably spacious for its class, the 4Runner has 38.6 inches of headroom in the front, and 41.7 inches of legroom up front. In the 4Runner's back seat, there are 38.6 inches of headroom and 32.9 inches of legroom. Need to bring a lot of luggage? The 4Runner trunk holds up to 46.3 cubic feet of your equipment. So, take a breather and have a good time!
Standard Toyota safety features included in the 4Runner are traction control, anti-lock brakes, side airbags, driver airbags, side-impact bars, seat-belt pre-tensioners, passenger airbags. With all these features, the Toyota 4Runner is always rated outstandingly by the IIHS and NHTSA.
The 4Runner also has a raft of comfort and convenience features, including power steering, remote locks, power windows, power mirrors, climate control, cruise control, air conditioning, power seats, adjustable steering wheel, and more! Especially nice are available hands-free phone and navigation. Test drive the Toyota 4Runner in Grapevine at Texas Toyota of Grapevine.
Like all Toyota cars & trucks, road handling and performance are top priorities for the 4Runner. Passing horsepower in the base 4Runner is 270 hp @ 5600 rpm, and producing excellent torque 78 ft lbs @ 4400 rpm foot pounds/rpm, the 4Runner accelerates in a flash from 0 to 60 mph in just 6.8 seconds. If you want to go that fast, the 4Runner has a top speed of 105 miles per hour. Despite this excellent power train output, the Toyota 4Runner's fuel economy is rated at 17 miles per gallon in the city and 23 highway miles per gallon. With a fuel tank capacity of 24 gallons, the 4Runner cruising range is well above average. Truly a performance SUV!
The Toyota manufacturer's warranty covers the 4Runner for manufacturing defects and has these specifications 3 Years / 36,000 miles. Toyota has worked for years to minimize environmental impact, and the 4Runner's carbon footprint is rated very low. Not surprisingly, with all these 4Runner advantages, this great Toyota SUV retains a high percentage of its value at 3 years and 36,000 miles, which makes the Toyota 4Runner a great used buy!
When seeking safe, economical, sporty and stylish SUV, Grapevine consumers should head to the Toyota dealer of choice, Texas Toyota of Grapevine at 801 State Highway 114 East in Grapevine [Dealership State].
Toyota 4Runner service information for Dallas

Toyota 4Runner owners and lessees in Dallas have found that Texas Toyota of Grapevine on 801 State Highway 114 East in Grapevine is the very best choice for 4Runner warranty work, regular maintenance & inspections, and mechanical repairs. At Texas Toyota of Grapevine, Certified Toyota Technicians, trained in the very latest diagnostic and corrective techniques, work for one thing only ? your complete satisfaction. Whether it's time for your Toyota to have an oil change, or tire rotation, or if you need a regular 4Runner Scheduled Maintenance, Texas Toyota of Grapevine is your first choice. Wheel alignments are another specialty of our Certified Toyota Techs, and, here on 801 State Highway 114 East, we are the smartest choice in Texas, for quick courteous and professional Toyota Service of all kinds.
If you'd like to
make an appointment to have your 4Runner serviced, click the link
or just give us a call. See you soon.