2013 Toyota Sequoia Reviews from Texas Toyota of Grapevine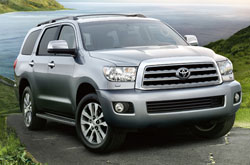 Texas Toyota of Grapevine is your trusted Grapevine, TX resource for reviews of the 2013 Toyota Sequoia. Don't stress out over your next purchase; look to the well-known Toyota retailer in Grapevine, TX for thoroughly researched reviews written by industry specialists. To make sensible decisions when it comes to your next Toyota Sequoia purchase, don't guess! Each article is stuffed with material and Sequoia features in way that's easy to understand. Get started by watching the video below or move on to the full review.
360 Degree Tour of the Toyota Sequoia SUV
Prominent Specs for the Toyota Sequoia
Compare the 2013 Toyota Sequoia against vehicles like the 2013 Buick Enclave, Infiniti QX56, GMC Yukon, Chevrolet Traverse and the Ford Expedition, and you'll spot that the Sequoia ranks above the competition in various areas. See our Quick List below to find out why!
2013 Toyota Sequoia MPG: 13 city / 18 highway
2013 Toyota Sequoia Cargo Space: 18.9 cubic feet
2013 Toyota Sequoia 0-60 MPH in 7 seconds
2013 Toyota Sequoia Colors: Super White, Black, Pyrite Mica, etc...
2013 Toyota Sequoia Body Style(s): SUV
2013 Toyota Sequoia MSRP: $41,955
2013 Toyota Sequoia Seats: 7 passengers
Toyota Sequoia: Standard & Available Features for 2013
Sequoia Engine Options for Grapevine, TX Toyota Shoppers
Warranty & Safety Information for Grapevine, TX Sequoia Owners
Toyota Sequoia Service Info for Grapevine, TX, Texas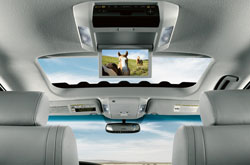 Toyota Sequoia owners won't get the same fantastic factory-trained Toyota mechanics and genuine Toyota parts at a mom and pop service company. But at our Grapevine, TX dealership you'll benefit from this all the time, along with the tranquility that comes with acquiring a gratis service warranty. Don't defer repairing your Toyota. Turn to Texas Toyota of Grapevine's friendly mechanics. Whether you're looking for cheap engine repair or less tricky work like air filter replacement or speedy oil changes, we'll take care of it! And these things are merely a chunk of the work we do. For both involved and straightforward services, our Grapevine, TX car repair center can manage everything; moreover Texas Toyota of Grapevine offers cheap maintenance pricing. Find incredible service coupons at Texas Toyota of Grapevine by clicking at bottom!