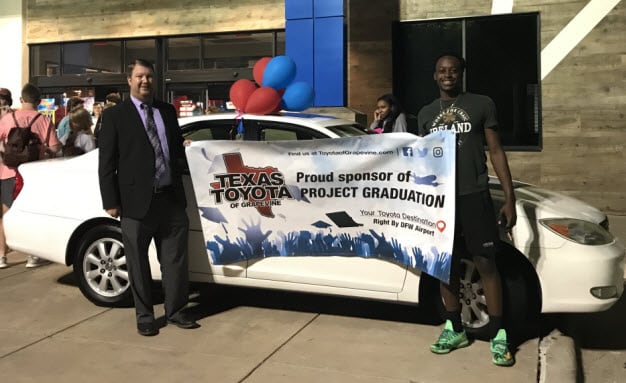 Texas Toyota of Grapevine was once again proud to sponsor this year's Project Graduation, a program that provides safe post-graduation activities for alumni. As part of our involvement, we awarded one lucky teen with a new Toyota, giving them the wheels they need to kick off the next chapter of their life in style!
Grapevine High School has been participating in the Project Graduation program for years, offering graduates an alcohol-free and drug-free graduation party, where they can enjoy a range of fun, safe activities. Everything from bowling and games to door prizes and gift certificates have featured at parties throughout the years. The Project Graduation parties have also attracted 90 percent of graduating seniors over the past 26 years, making them an absolute hit!
At Texas Toyota of Grapevine, we are thrilled with the success of Project Graduation and stand behind its initiatives. We are happy to sponsor the program each year and offer graduating seniors the chance to win a new vehicle they can call their own. We look forward to supporting this special cause again next year and wish this year's graduating class much success in the future!
For more information about Project Graduation, you can find a brief history of the program here.