Toyota Entune 3.0 Safety Connect for Complete Peace of Mind
With the Toyota Entune 3.0 Safety Connect, you'll always have a connection with a Toyota representative at the touch of a button. This feature provides you with help in an emergency and a stolen vehicle locator as well. Using the vehicle's built-in wireless system, a GPS locator, and the stereo system, you'll never have to worry about being able to contact emergency services. This is a great feature as you may not be able to access your phone quickly in an emergency. Toyota has raised the bar in safety by providing you with a handy S.O.S. button to get you the help you need much faster and more efficiently in an emergency.
The S.O.S. Button Feature
The S.O.S. button is located just overhead. It's easy to access for both the driver and passenger. You're able to contact roadside assistance for gas, flat tires, battery trouble, and more. The automatic collision notification feature gets you in touch with a Toyota representative that's able to track your location, assess the emergency, and get out the appropriate first responders. If there's no response from the vehicle's occupants, this is also noted, and help is immediately dispatched to your location. If your vehicle is stolen, a GPS locator is used to track the vehicle to its location. This feature is incredibly helpful for law enforcement to locate the car.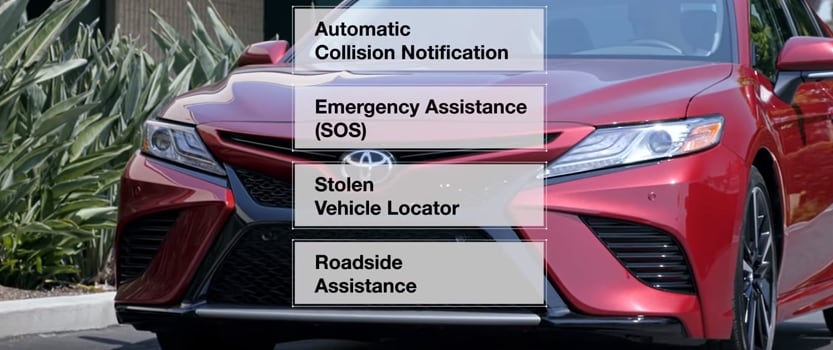 Try Toyota Entune 3.0 Safety Connect for Yourself
Toyota has a reputation for building great and safe cars that are designed to last. With the new generation of Toyota vehicles, you'll have help at your fingertips whenever you need it. The best way to see the Toyota Entune 3.0 Safety Connect is to come in for a test drive. Our courteous and professional staff makes customers our top priority. You'll soon see why so many people consider us to be their favorite dealership. Give us a call, stop into our showroom, or contact us online to check out our great selection of cars, trucks, vans, and SUVs, today!