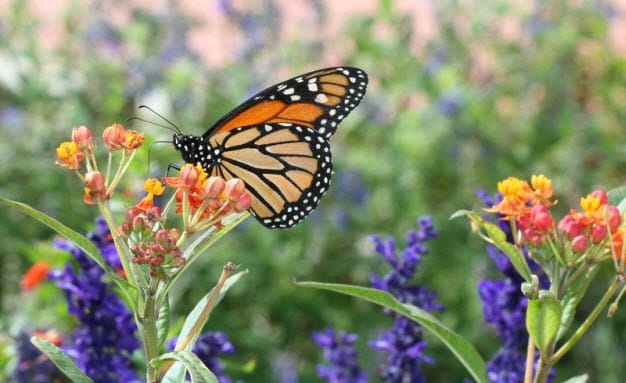 The 20th Annual Butterfly Flutterby is set to take place on Saturday, October 14, 2017 at the Grapevine Botanical Gardens. The event, which celebrates the migration of the monarch butterflies from Canada to Mexico by way of Grapevine, is a fun family outing complete with exciting activities.
Free to the public, Butterfly Flutterby will kick off at 10 a.m. and run until 2 p.m. The fun begins with a Costume Parade, which guests can register for at 8:45 a.m., starting at East Wall and Jenkins Streets and ending at the Grapevine Botanical Gardens. Pets are also welcome to join in on the parade, and prizes will be given out to different age groups following the spectacle. To commemorate the monarch butterfly migration, there will also be timed releases at 10:45 a.m., 11:45 a.m. and 12:30 p.m.
Throughout the remainder of the day, attendees will be able to take part in various activities, including face painting, a scavenger hunt, butterfly exhibits, butterfly crafts and interactive games. Refreshments will also be available for purchase. For additional information about this event, be sure to check out the official website.
Event Details
Date: Saturday, October 14, 2017
Location: Grapevine Botanical Gardens – 411 Ball St.
Time: 10 a.m. – 2 p.m.
Admission: Free