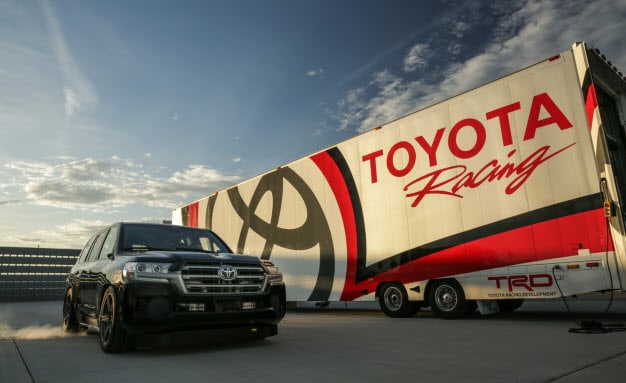 A 2,000-horsepower custom Toyota Land Cruiser has officially broken the "World's Fastest SUV" record. Besting the previous record by 19 mph, the SUV's latest achievement is truly one for the books.
Toyota brought in former NASCAR driver Carl Edwards to perform the record attempt at Mojave Air and Space Port in Mojave, Calif. During the run, the Land Cruiser reached a top speed of 230.02 mph, which Edwards said could have just been the starting point if he hadn't run out of paved runway. Although, he did admit that the SUV began wandering at 225 mph, leaving us to believe the Land Cruiser might need a few more customizations before being able to top its new record.
Speaking of modifications, the record-breaking Land Cruiser had plenty in order to boost its power and capabilities. The SUV's 5.7L V8 engine received Garrett turbochargers, upgraded internal engine parts and a custom intake manifold to improve its performance. To support its 2,000 horsepower output, the Land Cruiser also added a custom racing transmission designed to withstand extreme stress.
To ensure the Land Cruiser was at the top of its game, championship road racer Craig Stanton was also brought in to fine-tune the SUV.
"I wanted the Land Speed Cruiser to provide the confidence you need, as a driver, to keep pushing even when the world around you becomes a high speed blur," he said. "We made some setup adjustments, and it not only accelerates and shifts more smoothly, but it also has enhanced stability."
Thanks to Stanton's assistance, the modified Land Cruiser was able to successfully break the "World's Fastest SUV" record. While you can't find the custom model on sale at any dealership, you can stop by Texas Toyota of Grapevine to view the production version of the 2017 Land Cruiser model.