Tires play a significant role in your overall vehicle's performance, and when they aren't properly maintained or replaced when needed, you can severely damage your car and put yourself in danger. More than 11,000 car accidents a year are caused by tire failure that, in most cases, could have been avoided if routine tire service was regularly performed. To prevent this from happening to you, we recommend having your tires serviced annually at Texas Toyota of Grapevine, keeping your car in top condition.
Age is a huge factor when it comes to tire maintenance. If your tires are at least five years old or more, you should have them inspected by one of our professional service technicians. Tire rotation and wheel alignment in Grapevine are just two of the most important tire services we offer. Schedule an appointment with our team today to have your Toyota inspected.
Is It Time for New Tires?
There are certain indications that imply you need new tires for your Toyota. If you practice poor driving habits, such as speeding and driving on damaged roads, or mix tire types, you'll likely find yourself in need of new tires sooner than expected. You'll also want to look out for these top common signs when inspecting your tires at home:
Bulges and Cracks - Notice bulges or cracks in your tires? These can be early signs of potential tire failure. Bulges often mean your tire has a slow air leak, which can lead to performance issues and extensive car damage.
Bended Rims - Aluminum rims are known to bend if hit by something on the road. If you notice your rims are bended, there's a good chance you have tire damage.
Shallow Tread - If the tread on your tires is too low, it's time for a new set. You can use the penny test to determine how shallow the tread is. Just place a penny in the tread with Lincoln's heading pointing down. If you can still see the top of his head, you need to purchase new tires.
Low Tire Pressure - Are you constantly inflating your tires due to low tire pressure? You may have an air leak. This can be caused by a number of components, including embedded rocks or nails.
Texas Toyota of Grapevine - Tire Shop Near Me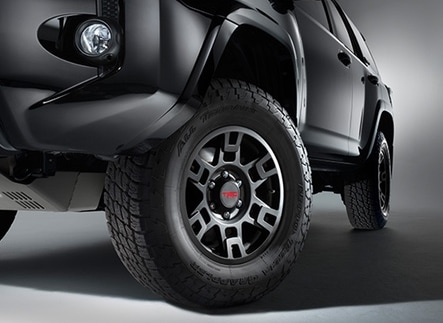 When it's time to buy new tires for your Toyota car, truck or SUV, head down to see our service team. Don't bother with discount tire shops. We have a team of experts who can help find the ideal tires for your specific model, and we have a range of brands to choose from. We sell Michelin tires, Pirelli tires, Bridgestone tires and many more.
Don't need tires just yet? No problem. Bring your Toyota down to our dealership for wheel alignment and tire rotation in Grapevine to keep your car running smoothly. We look forward to assisting you with all of your tire maintenance needs.