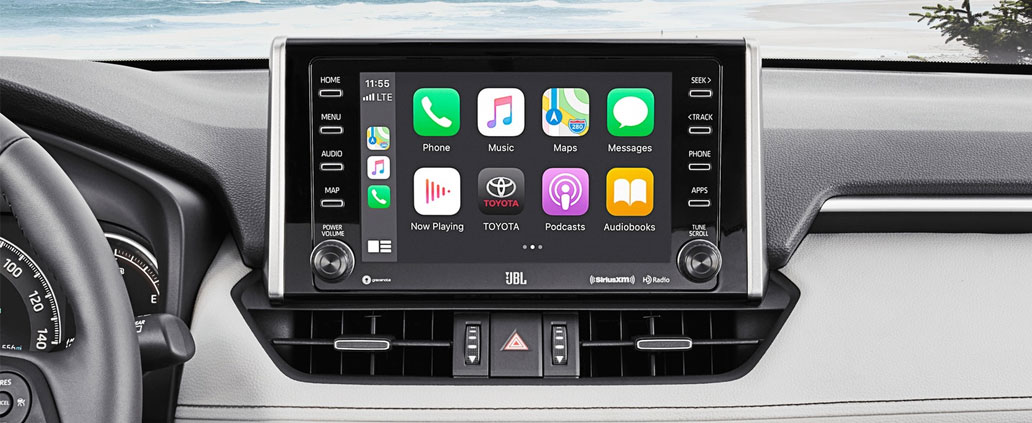 Using your iOS features in your Toyota vehicle is possible on nearly every model. New models get the CarPlay treatment every single day. The platform first appeared on Toyota vehicles in 2014. It was a quick and snappy way to bring all the entertainment on your phone directly to your Toyota vehicle's infotainment system. And we all know how useful Apple apps are. You get applications to help you make calls, text your loved ones, grab the latest pop music (and classical music), and pull up maps and GPS directions in your vehicle's location.
New Models Getting Apple CarPlay
Entune was Toyota's go-to infotainment software for years. We all know that Toyota is a perfectionist, and they've created some of the most stunning and useful in-car software in history, so we understand why they focused on Entune for the longest. However, now Toyota has opened the door for their models to feature Apple CarPlay, too.
Here are the models you will see it on:
2019 Toyota RAV4
The spunky RAV4 gets even handier this year thanks to the addition of Apple CarPlay! Not only will you get all the new off-road equipment for the RAV4, but you'll be able to integrate your Apple smartphone's information right into your infotainment system. It's a match made in heaven.
2019 Toyota Avalon
A full-size sedan like the Avalon already has a lot going for it. Still, when you throw in a 9-inch touchscreen infotainment system that's compatible with Apple CarPlay, you've got a genuinely stunning technology spread to appreciate here. It's not just the addition of CarPlay that's exciting, though. Toyota Remote Connect will link up with your Smartwatch, and Alexa will be coming along from the ride, too.
2019 Toyota Corolla Hatchback
The Corolla hatchback doesn't just give you loads of cargo capacity to bring your gear along. Now you'll have a ton of tech, too! Toyota Remote Connect makes an appearance here as well, and you'll love being able to link your Smartwatch and enjoy the Alexa platform.
Learn More Today
The ability to link your Apple devices with your Toyota is just icing on the cake. And thanks to new functions, you'll be able to control your Toyota model remotely with almost every mobile device, even your Smartwatch. Imagine locking or unlocking your car door with just your watch.
This is the kind of futuristic tech Toyota is bringing to their vehicles this season. Best of all, the new features are standard on many trims, even lower trims that are less expensive, so this is a ton of tech all at once in a very affordable pricing arrangement. Call us today to learn more about Apple CarPlay and its implementation in Toyota brand vehicles. If you'd like a full demonstration of how it works, visit our dealership today!