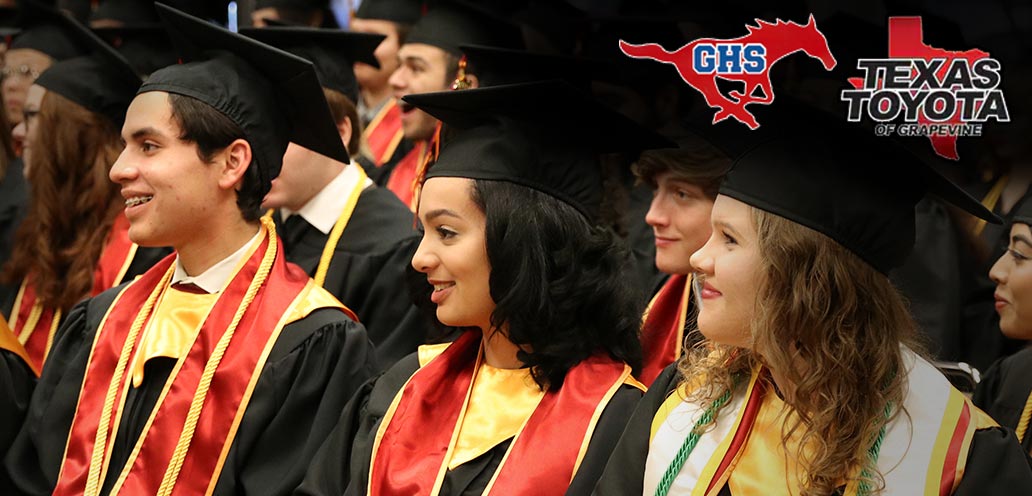 In 1961, President John F. Kennedy famously delivered the quote, "Ask not what your country can do for you, ask what you can do for your country" in his inaugural speech. This type of question has become more important than ever for protecting students all across the nation, who are presented with safety challenges far greater than anyone could have ever imagined at the time of Kennedy's speech. The fact of the matter is, they cannot protect themselves, by themselves. They need the help of the community getting involved.
For more than two decades, our dealership has been dedicated to North Texas, and we have become a well-respected car dealership by providing first-class customer service. However, throughout this time, it has been our commitment to giving back to the community and making a difference that has meant the most to our entire staff. That's why our dealership has once again made the choice to humbly accept the honor of sponsoring Grapevine High School's Project Graduation!
Project Graduation is an initiative that is meant to keep high school seniors safe by providing an alternative for staying off the roads on graduation night, while still providing a fun-filled evening where they can celebrate a milestone achievement. The initiative was developed by the Texas Department of Transportation, and our dealership is proud to take part. As a Presenting Sponsor, we've donated a Toyota Corolla to be given away at the event!
According to recent statistics provided by Project Graduation, one in three teenage deaths occurs each year during prom or graduation weekend. And the number one cause of teenage fatalities occurs while in a motor vehicle and being involved in an accident. Additionally, 25 percent of fatal teenager car accidents occur when drinking or drugs are involved.
It is estimated that more than 430 students will attend a lock-in event on May 30, 2019, from 11:00 p.m to 5:00 a.m., which will be an alcohol-free and drug-free environment. All seniors from the Grapevine High School graduating class will receive free admission. More than $50,000 was raised for the Grapevine High School Project Graduation 2019 event and all of the programs associated with the event, which includes live entertainment, food, refreshments, raffle prizes, laser tag, arcade games, and many more activities.
Project Graduation is a parent-led program, which has raised money through donations from local sponsors, such as our dealership, as well as corporate and private donors. The Project Graduation event has been a huge success for the past 20 years and senior class safety has continued to be a major commitment for all participating sponsors.
Although safety is the core intent of the Grapevine High School Project Graduation 2019 event and related activities, seniors will walk away with long-lasting memories. This year, the events will be even more memorable because of the opportunity for seniors to share experiences which weren't possible throughout 2019, due to the stadium construction at Grapevine High School. Unfortunately, students missed the typical exciting time of celebrating on the field as a home team, so this missed opportunity will be a major part of this year's Project Graduation theme!
It is the hope of all sponsors including our dealership to encourage a night of celebration where motor vehicle safety is not an issue. We wish all of the students graduating this year success in their future endeavors, and we hope that Project Graduation provides a great way to kick off the next chapter of their lives!