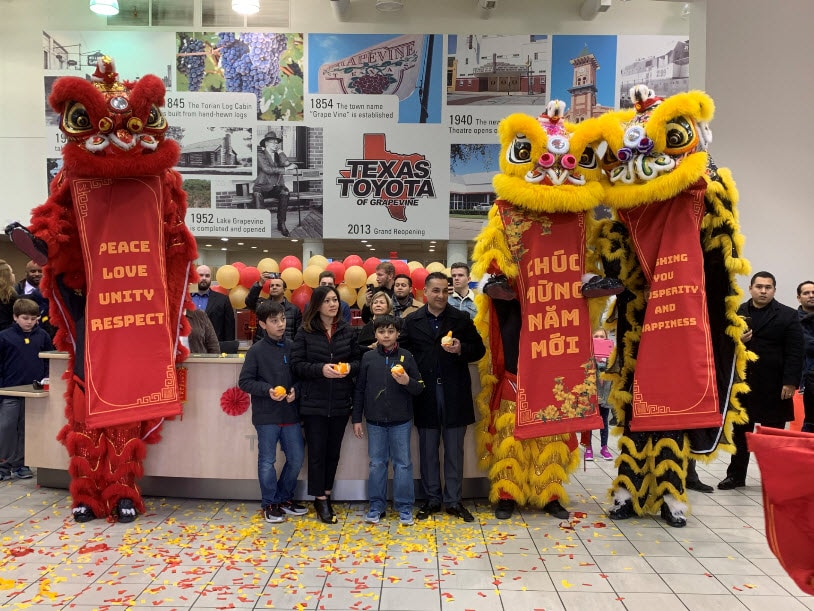 Friday, February 12th - 12:00 p.m. to 2:00 p.m.
One of our favorite annual events is coming up! Join Texas Toyota of Grapevine to celebrate the Chinese Lunar New Year. We're excited to celebrate with a day of fun and festivities on February 12, 2021. As we ring in the Lunar New Year with a unique celebration, we'll be following local and federal safety guidelines for COVID.
The Chinese Lunar New Year
In China, the Lunar New Year also called the "Chinese New Year" or the "Spring Festival," is an annual celebration that removes ill-fortune to make way for health, happiness, and prosperity instead. The Lunar New Year is a celebration that takes place for about two weeks. This year, it begins on February 12 and lasts through February 26. The last day of the Lunar New Year is celebrated with a special ceremony called the Lantern Festival.
Each year, the Lunar New Year is represented by one of the Chinese Zodiac signs. According to the lunar calendar, 2021 is the Year of the Ox. The Ox is the second Zodiac symbol in Chinese tradition. The Ox is considered a valuable animal in Chinese tradition because of its positive qualities of intelligence and reliability while also remaining humble. By nature, the Ox and those born under its sign are hard-working and diligent. Honesty is another quality of the Ox, and individuals born under the Ox Zodiac sign are also earnest, reliable, and trustworthy. They rarely lose their tempers and are natural leaders. In 2021, the Ox is also associated with the Metal element, which brings financial success and stability in addition to the personal qualities and attributes that the Ox Zodiac sign is associated with.
Join Us for a Celebration
The Lunar New Year is a big event, which means that we naturally celebrate with fun and festivities. One of our popular events is the Lion Dance, which takes place from 12:00 PM – 2:00 PM on February 12, 2021. The Lion symbolizes power and wisdom, and the Lion Dance is performed to usher in good luck and prosperity for the new year while warding off bad luck and evil spirits. Be sure to mark your calendar for this special event, followed by a celebration complete with Chinese food and festivities.
Contact us for more details, and we look forward to seeing you at our 2021 Chinese Lunar New Year celebration.