Brake service is an important part of your car's overall maintenance, and when performed incorrectly, it can lead to serious problems down the line. This is why we encourage local car owners in need of brake service or repair to bring their vehicles down to our state-of-the-art service center at Texas Toyota of Grapevine. Ran by certified, trained technicians with years of experience, our auto shop is one of the most respected service centers in the Grapevine area when it comes to brake services. We have the tools needed to handle each job and our team of professionals is qualified to work on all makes and models, including Toyota cars, trucks and SUVs.
How Do I Know My Car Needs Brake Repair in Grapevine?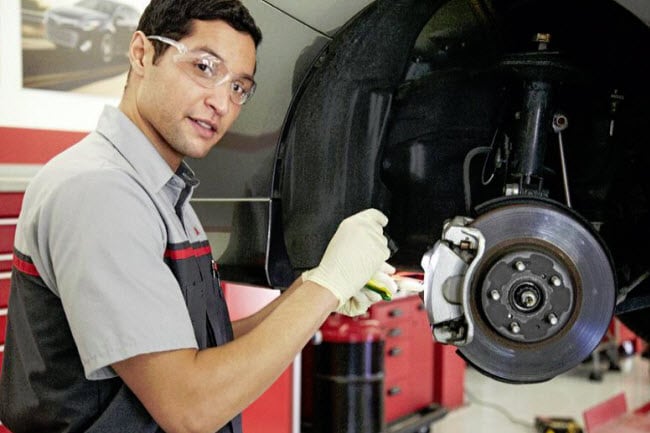 Most manufacturers include a recommended maintenance schedule in each owner's manual to inform owners when their car is in need of routine maintenance, including brake service. If you have neglected to have your car examined by a mechanic during these service intervals, there's a chance your brakes require a little TLC.
Look for the below warning signs to determine if your car is in need of brake service in Grapevine:
Your brake light on your dashboard is lit up
Your car makes a grinding noise when braking
Your car jerks to the side when braking
Your brake pedal feels spongy when applying pressure
Any of this sound familiar? If so, it's time to schedule an appointment with one of our technicians. Your car may be in need of new brake pads, brake calipers, brake rotors or a brake fluid exchange. To avoid repairs such as these in the future, be sure to always have your brakes inspected during each service interval at Texas Toyota of Grapevine. It's our mission to keep you safe on the road.