The 2012 Toyota Tacoma from Texas Toyota of Grapevine is the epitome of passionate automotive craftsmanship built to fit the needs of TX Toyota enthusiasts. Texas Toyota of Grapevine is excited to present the 2-door 2012 Toyota Tacoma Truck . As your Grapevine Toyota dealer, we hope you find our 2012 Toyota Tacoma reviews and research materials useful in finding the amenities, specifications and information you've been on the lookout for. View Texas Toyota of Grapevine's lineup of 2012 Toyota Tacoma Truck s.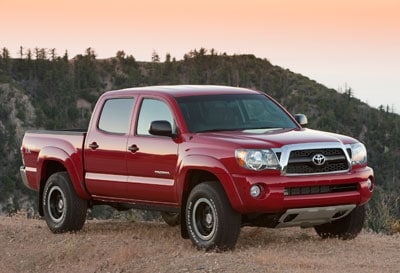 Texas Toyota of Grapevine presents the 2012 Toyota Tacoma Truck
Consumers find that when they compare the 2012 Toyota Tacoma to other makes like the Dodge Dakota, Nissan Frontier, Ford Ranger and Chevrolet Colorado , the Toyota Tacoma emerges as the most fun to drive. Check over our Quick List chart below to see why!
The 2012 Toyota Tacoma has an starting MSRP of $16,875
The 2012 Toyota Tacoma gets 21 city / 25 highway MPG
The 2012 Toyota Tacoma goes from 0-60 MPH in 8.8 seconds
The 2012 Toyota Tacoma features 41.7 inches of legroom up front and NA inches in back
The 2012 Toyota Tacoma features 40 inches of headroom in front and NA inches in back
The 2012 Toyota Tacoma is 190.4 inches long, 72.2 inches wide and is 65.8 inches tall
The 2012 Toyota Tacoma weighs 3,250 pounds and has a turning radius of 18.3 feet
We know you'll appreciate the Toyota Tacoma - visit Texas Toyota of Grapevine in Grapevine today!
The number-one selling compact pickup truck in America - the Toyota Tacoma - is back for 2012 with a redesigned exterior, interior and new audio systems, proving that even if you make the bestselling compact truck, there's always room to make it even better! The 2012 Toyota Tacoma's added features and updated appearance put this affordable compact truck at the head of the pack; it's no wonder that drivers of the Dodge Dakota, Nissan Frontier, Ford Ranger and Chevrolet Colorado are flocking to the new Tacoma. Visit Texas Toyota of Grapevine to check out our complete lineup of new and used Toyota Tacoma trucks.
Introduced to the U.S. in 1995, the Toyota Tacoma dazzled consumers and reviewers alike with its rugged durability, inspired design and high level of interior comfort. The Tacoma was originally available with four- or six-cylinder engine types and highlighted either a rear-wheel drive or 4-wheel drive configuration. Early Tacomas also featured regular and extended cab variations, which helped it fulfill a variety of towing and hauling needs. Near the turn of the century, Toyota introduced a 4-door crew cab model that had a six-foot bed to accommodate even larger workloads. Changes in body styles over the years has given the Tacoma a sleek, modern look, all while maintaining the its original durability and aggressiveness on the road. Stop by Texas Toyota of Grapevine today and test drive any of our quality new and used Grapevine Toyota Tacoma trucks.
2012 Toyota Tacoma reviews for the new model year have been outstanding, as most agree the new exterior and higher quality interior are a step up from last year's model. Grapevine Toyota Tacoma customers can also continue to expect excellent gas mileage and a variety of body styles and packages for 2012. Call Texas Toyota of Grapevine for Tacoma incentives, prices, and package options today!
Two engine options are available for most trucks in the Tacoma line for 2012. Choose from a 2.7-liter DOHC four-cylinder that pushes 159 hp and 180 lb-feet of torque or a 4.0-liter V6 that provides 236 horses and 266 lb-feet of torque. Both engines come with variable valve timing with intelligence, as well as Toyota's Electronic Throttle Control System to improve fuel economy and provide a smoother ride.
The new exterior of the Toyota Tacoma 2012 Regular Cab features a redesigned grille, hood, bumper and headlights, giving it a more angled and aggressive appearance. Grapevine Toyota shoppers can also expect to find last year's fiber-reinforced sheet-molded composite inner bed and steel outer panels, storage compartments, rail caps, and a removable tailgate. An easy-to-use deck rail system provides 4 adjustable tie-down cleats to facilitate safer and more secure hauling. Interior highlights of the 2012 Tacoma Regular Cab include air conditioning, a fully carpeted interior, LED illuminated gauges, cup holders and a four-speaker stereo system with AM/FM/CD playback.
The Tacoma Access Cab at Texas Toyota of Grapevine carries all of the amenities of the Regular Cab but features powered windows, powered locks, a rear bench seat, cloth upholstery, bucket seats, and a new six-speaker stereo system with AM/FM/SAT/CD capabilities and built-in Bluetooth.
If a larger cab is what you are looking for, The 2012 Tacoma Double Cab is the truck for you. It features a five-foot rear bed and has a larger amount of storage room and hauling space, all without sacrificing maneuverability or control. The Double Cab at Texas Toyota of Grapevine contains 4x2 and 4x4 model options with a variety of PreRunner engine choices including: a PreRunner 2.7-liter four-cylinder four-speed automatic, 4.0-liter V6 five-speed automatic, a PreRunner Longbed 4.0-liter V6 five-speed automatic, and a 4.0-liter V6 six-speed manual. Exterior and interior options and standard equipment in the Tacoma Double Cab mirror the Regular Cab and the Access Cab, but add black overfenders, driver lumbar support, and a front skid plate.
Rounding out the 2012 Toyota Tacoma lineup is the sporty X-Runner with optional TRD packages. This 4x2 4.0 liter V6 six-speed manual offers 236 horsepower at 5,200 rpm and 266 lb-ft. of torque at 3,800 rpm, which will get Grapevine X-Runner drivers from 0-60 in under seven seconds. The Toyota Tacoma X-Runner isn't just a sport truck; its high horsepower and torque also allows for plenty of towing power for the days you aren't scorching the pavement. The Tacoma X-Runner from Texas Toyota of Grapevine features a 115V/400-watt deck mounted power outlet, fog lamps, a color-keyed hood scoop, color-keyed bumpers, overfenders, grille insert and door handles, power mirrors, and a body kit. For a complete list of the amenities offered in the X-Runner, give us a call and ask to speak with any of our knowledgeable sales representatives.
Toyota Tacoma safety is of the upmost importance to Texas Toyota of Grapevine. That is why every 2012 Toyota Tacoma comes standard with the Star Safety System, which features: Vehicle Stability Control, Traction Control, ABS, EBD, Brake Assist, and Smart Stop Technology to ensure a safe trip every time you hit the road.
Driving a Toyota Tacoma from Texas Toyota of Grapevine makes TX driving comfortable, safe and fun - all at the same time! This is why:
Texas Toyota of Grapevine has a stupendous stock of 2012 Toyota Tacoma Truck s with standard Toyota safety features like anti-lock brakes, traction control, driver airbags, passenger airbags, side airbags and more, making the 2012 Tacoma an NHTSA and IIHS favorite. In addition to these safety features, the 2012 Toyota Tacoma can capably seat up to 3 passengers. Trunk space with Toyota is never a worry; the Tacoma can hold up to truck bed cubic feet of your stuff, ensuring that your next drive is hassle-free. To top it all off, the 2012 Toyota Tacoma includes an astounding list of comfort and convenience features like powered windows, mirrors, doors and locks, climate control, AC and optional hands-free phone and navigation systems. Take a test drive at Texas Toyota of Grapevine today and experience the Toyota Tacoma for yourself.
The Toyota manufacturer's warranty covers the Tacoma for manufacturing defects and has a 3 Years / 36,000 miles Toyota warranty. Toyota has worked for years to minimize its environmental impact; as a result, the Tacoma's carbon footprint is minimal. Not surprisingly, with all of the Tacoma's advantages, this incredible Toyota Truck retains a high percentage of its value at 3 years and 36,000 miles, which makes the Toyota Tacoma a great used buy! When seeking a safe, stylish and economical Truck , Grapevine Toyota enthusiasts should head to Texas Toyota of Grapevine, located at 801 State Hwy 114 in Grapevine, [Dealership State]
Toyota Tacoma service information for Grapevine
Toyota Tacoma lessees and owners in Grapevine have recognized that Texas Toyota of Grapevine at 801 State Hwy 114 in Grapevine is the very best choice for Tacoma warranty work, regular maintenance, inspections and mechanical repairs. At Texas Toyota of Grapevine, Certified Toyota Technicians trained in the very latest corrective and diagnostic techniques work for one thing - your approval. Whether it's time for your Toyota to have an oil change, shock and strut replacement, or simply undergo Tacoma Scheduled Maintenance, Texas Toyota of Grapevine is your first choice. Our Certified Toyota Techs also complete specialty jobs and repairs. Texas Toyota of Grapevine is the smartest choice in Grapevine for quick, respectable and professional Toyota Service of all kinds.
If you'd like to make an appointment to have your Tacoma serviced, click the link or just give us a call. We'll see you soon!