Texas Toyota of Grapevine Previews the New Tundra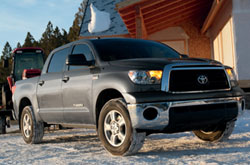 Scroll past the 2013 Toyota Tundra review video below to start reading about the new Tundra. The Toyota Tundra reviews are composed by experienced vehicle authors. It is just one of many resources we provide as the leading Toyota dealer in Grapevine, TX. To make knowledgeable decisions when it comes to your next Toyota Tundra purchase, don't guess! Each article is overloaded with facts and Tundra features in way that's easy to understand. Is the Toyota Tundra right for you? Read on and find out!
2013 Toyota Tundra Walk-around Video
Toyota Tundra Comparisons & Quick Specs
When considering the 2013 Toyota Tundra to the 2013 GMC Sierra, Dodge Ram, Ford F 150 and the Chevrolet Silverado, and you can discover that the Tundra ranks above those autos in various parts. View the hightlights below.
2013 Toyota Tundra MSRP: $25,355
2013 Toyota Tundra 0-60 MPH in 6.4 seconds
2013 Toyota Tundra Body Style(s): Truck
2013 Toyota Tundra Colors: Silver Sky, Spruce Mica, Radiant Red, etc...
2013 Toyota Tundra Cargo Space: pickup cubic feet
2013 Toyota Tundra Seats: 6 passengers
2013 Toyota Tundra MPG: 16 city / 20 highway
Engine Specs: See What's Under the 2013 Tundra's Hood
Warranty & Safety Information for Grapevine, TX Tundra Owners
Toyota Auto Repair & Service Information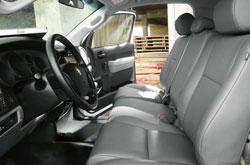 Our Toyota dealership in Grapevine, TX is lodged near many well-known local cities! So, you're a quick trek away from acquiring reliable OEM parts and work from Toyota technicians! We also give our customers confidence with a long-term warranty on repairs! Your Tundra will run smooth with help from the hot shots at our Grapevine, TX service center. Whether you come for simple oil changes, a straightforward tire rotation and swaps or anything else, we'll complete your Toyota repairs with without breaking a sweat. Texas Toyota of Grapevine's got you covered for valuable Toyota repair and factory-scheduled service in Grapevine, TX. Follow the link below to see our current service specials.